Celebrating the First 60 years
Craigmyle is the longest established fundraising consultancy company in the UK and to mark its 60th anniversary this year, Craigmyle has published Craigmyle – The First 60 Years, which charts its remarkable story and, alongside it, of post-war fundraising in Britain.
Written by Joel Burden, Craigmyle Consultant, The First 60 Years details just how much has been achieved, with Craigmyle working with a huge number and variety of clients, including charities, schools, churches, hospitals and heritage organisations. Since 1959 Craigmyle consultants have helped nearly 2,000 charities raise some £1 billion for capital and revenue project.
Gill Moody, director, said:
"We are delighted to celebrate our 60th anniversary. Over six decades, supporting a wide variety of clients, we have adapted to a changing fundraising environment whilst pursuing excellence and retaining our commitment to values in everything that we do. We now look forward to continuing to provide strategic fundraising advice and support to meet the needs of our clients in the future."
Current and past consultants from Craigmyle gathered together in September to celebrate the company's continued success and contribution to British fundraising. Guests heard from Lord Craigmyle, 4th Baron, whose father, Donald Shaw, 3rd Baron (1923-1998) co-founded the company in 1959.
"Craigmyle proved to be one of my father's greatest and longest-lived achievements and I'm so pleased to be with you today, continuing my family's connection, as you celebrate Craigmyle anniversary, and look ahead to the next 60 years." Lord Craigmyle, 4th Baron.
Read more about Craigmyle's approach and our history.
To order copies of the leaflet, The First 60 Years, contact us.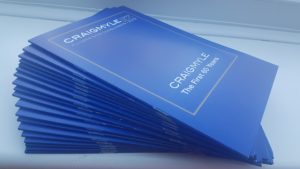 Latest News