St Alfege Church, Greenwich shortlisted for Museums and Heritage Awards 2021
We are delighted that the St Alfege Church Heart of Greenwich Place and People project funded by the National Lottery Heritage Fund has been shortlisted for the 2021 Museums and Heritage Show's Restoration or Conservation Project of the Year Award.
Recognising the care of collections and objects throughout the pandemic has been as important as it ever was, this award highlights the quality of work undertaken on restoration and conservation projects within the UK. This year the Awards received the highest number of entries on record. In assessing projects, the Museum and Heritage Show judges consider how a project has been managed and implemented from conception to completion.
Congratulations to all involved at St Alfege and the Heart of Greenwich project – which aims to reinforce St Alfege's position as a heritage asset at the heart of Greenwich, reveal and interpret the church's hidden spaces and heritage for visitors, school children, their families and a diverse local community.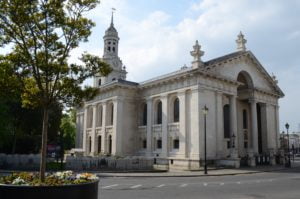 St Alfege Church by Richard BeckThe award ceremony takes place on 1 July.
Find out more about the Museums and Heritage Awards and other shortlisted projects here.



Latest News