We are pleased to announce that Wendy Foreman has joined the Craigmyle team, adding a new dimension as she brings over 30 years' communications experience in the private and public sectors. With the energy and drive to deliver excellence in strategic communications based on clear objectives, careful planning and implementation, Wendy has a strong track record of creative and effective award winning multi-channel communication campaigns.
Based in Greenwich, South East London, Wendy started her marketing career with 3i Group plc where she was publicity manager and was more recently Head of Campaigns at Southwark Council. Wendy is a member of the project steering group and communications lead on St Alfege Church Heart of Greenwich Place and People, a project awarded £1.8m by the Heritage Lottery Fund in December 2017.
Wendy works closely with her Craigmyle colleagues contributing in three key areas:
feasibility studies and strategic planning;
working with the National Lottery Heritage Fund;
discrete projects eg developing an overarching campaign strategy, building a social media plan or project managing a branding refresh or website review.
All of which can significantly contribute to the success of fundraising initiatives.
Wendy says 'Craigmyle is celebrating its 60th anniversary this year and I am delighted to join a consultancy firm with such a long and impressive history. I am looking forward to working with my highly-skilled colleagues and bringing together fundraising and communications in an integrated way to benefit existing and new clients."
To contact Wendy, telephone 07773 521 906 or email her at Wendy@craigmyle.org.uk
Introduction
The Heritage Lottery Fund has a new name and brand – National Lottery Heritage Fund. This is clearly aimed at raising the profile of the National Lottery as a mechanism for funding good causes, in the ambition that this will help sell more lottery tickets.
As expected, the focus of the new lottery programmes is on outcomes for people (a mandatory requirement) with outcomes for heritage, which encompasses repairs and conservation, as a lower priority. For churches with a pressing need for repairs or conservation this could have a significant impact, as they will need to prove even more clearly than before how this benefits local people. Heritage being at risk is still a significant factor but it is not yet clear how this is dealt with in the application process.
In detail
There is a major geographical re-organisation with a more devolved structure (Scotland; Wales; Northern Ireland; and three areas of England: London and the South, Midlands and the East, and North) and focus on 13 priority areas. Also encompassed is
a greater emphasis on landscape and nature heritage
a focus on building organisational resilience
There will be a streamlined portfolio with almost all projects encouraged to apply for the National Lottery Grants for Heritage rather than a funding strand tailored towards a particular purpose. In general terms these will be
National Lottery Grants for Heritage: £3,000 to £10,000
National Lottery Grants for Heritage: £10,000 to £250,000
National Lottery Grants for Heritage: £250,000 to £5million
New points to note are expressed in the revised outcomes
"We will ask every project to achieve our new inclusion outcome: a wider range of people will be involved in heritage" – this is to be a mandatory requirement. Specific groups are listed.
"People will have greater wellbeing." This is an additional requirement. The strategy recognises that many applicants will be ill-equipped to plan and deliver this and there are plans for a UK wide funding stream to encourage development in this area. "However, our consultation revealed a lack of confidence that heritage bodies were equipped to deliver wellbeing effectively. We will therefore focus one of our first UK-wide heritage campaigns on wellbeing. Alongside this funding from 2020–21 we will deliver a programme of thought leadership, sharing practice and collaboration to build heritage organisations' capacity and confidence."
Additional points to note:
There is to be a greater emphasis on social investment so that lottery funds can be recycled. While the Framework doesn't give a huge amount of detail the move to loans, impact investments and other non-grant products is significant. This, coupled with support for enterprises and for-profit/non-profit partnerships, means that the Fund recognises that a range of operational models – and associated support – is needed to strengthen the sustainability of the sector.
While the emphasis on proper financial planning is to be welcomed many churches have good financial controls but no "formal" business plan.
An emphasis on involving "the community" both by applicants and in decision making.
A greater focus on how the Grants for Heritage awards are recognised.
In the applications for grants above £250,000 there will be a new requirement to submit the organisation's "existing business plan" at stage 1 of the application, against which any new project related business plan might be measured.
For an informal discussion on how these changes may affect your plans, contact our heritage project planning and funding team: first@craigmyle.org.uk 01582 762441
The National Lottery Heritage Fund Strategic Funding Framework 2019-2024 can be read in full at: https://www.heritagefund.org.uk
Full details of application procedures and funding guidelines are also to be found on this website.
We are happy to announce that Christine Buccella has joined the Craigmyle Consultant team. She has an impressive breadth of experience across the non-profit sector, including five Director-level fundraising positions and many years of experience as a self-employed fundraising consultant and project manager.
Christine started her career 25 years ago in the US office for the University of Oxford's first major fundraising campaign. She has also worked as a Director at the University of Massachusetts (Boston) and the University of Auckland, as well as the Royal Society for Arts and the human rights organisation, Liberty. Her consultancy work has covered schools, charities, arts and heritage organisations.
Her particular areas of expertise are major gift fundraising and strategic planning, but she also has significant experience in charitable trusts fundraising, individual giving, statutory funding, membership programmes, legacies and corporate sponsorship. She has experience in training sessions for staff and volunteers, developing prospect pipelines, identifying, recruiting, and managing Board members, and recruiting and mentoring staff.
Currently based in North Essex, near Cambridge, Christine has experience of fundraising in a number of countries, including the US, UK, Europe and New Zealand. She is happy to travel to wherever her clients need her.
Christine says 'Craigmyle is celebrating its 60-year anniversary in 2019 and I am thrilled to join a consultancy firm with such a long and impressive history. I am looking forward to working with and learning from my highly-skilled colleagues and using my experience to assist some exciting new clients.'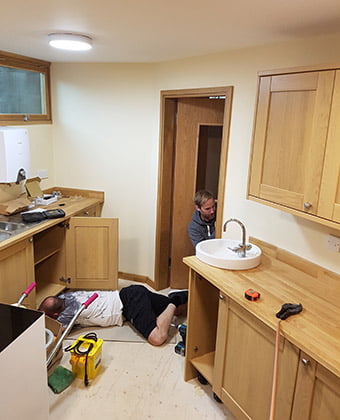 New facilities for the local community and congregation are being used for the first time at Coleshill Parish Church as phase one of a £1.05 million remodelling and restoration project is completed.
The large Grade I listed parish church is an active focal point for community life in the North Warwickshire town, but the church's capacity to grow its community engagement work has long been constrained by its lack of basic modern facilities.
Craigmyle consultant Joel Burden has been working with the Parochial Church Council and a volunteer team at Coleshill for the past couple of years to develop and lead an effective fundraising campaign aimed at enabling ambitious plans to be carried out on a phased basis. The first phase of work has seen the installation of a disabled user toilet with baby changing facilities, the installation of conservation compliant 'pod' kitchen facilities, the complete refurbishment of the church's only existing private room space in the upper area of the tower, and the creation of dedicated disabled badge holder parking bays within the churchyard.
An important aspect of the plans is to harness the opportunity created by the remodelling project also to address a series of heritage conservation issues within the church, including the need to reverse some decisions taken in the past that no longer meet with modern conservation standards. Accordingly, the works in the tower have included the removal of an unsightly ceiling which obscured the splendid west window, a number of important Victorian glazed windows have been cleaned, and the removal of carpeting in the chancel has created an opportunity to uncover and conserve a quite magnificent Victorian tiled floor inset with medieval floor brasses.
Funding for the phase one works has been raised from a combination of local individual and corporate giving, grants from charitable trusts and support from local statutory bodies. Fundraising for the second phase of works – which will focus primarily on urgent repairs and heritage conservation issues – is now highly advanced and subject to final confirmation of an award from the Heritage Lottery Fund it is planned for phase two work to commence on site in late autumn 2018.
We're delighted to welcome Siân Newton to the Craigmyle Consultant team. She brings a wide range of skills and experience, most recently as Appeal Director of the £6.9 million campaign at Guildford Cathedral.
Over 20 years Siân has worked in local and national fundraising, including for British Red Cross, Parkinson's Disease Society, Lord Mayor's Appeal for Save the Children and Womankind Worldwide. Specialising in trusts and major gifts, Siân also has experience of statutory bids, strategic development, integrating fundraising and communications, and crowdfunding campaigns. As Appeal Director at Guildford Cathedral, Siân raised £6.9m from Heritage Lottery Fund and private sources. She is a member of the Institute of Fundraising.
Siân is currently providing interim fundraising management as well as mentoring for fundraising staff.
Sophie, the Countess of Wessex, has officially opened the new Breast Cancer Haven at the Worcestershire Royal Hospital's state of the art Breast Unit. Craigmyle consultant Geoff Howard worked for several years on the campaign to build and equip the unit which opened in 2016. Now the Haven can complement the work of the medical and surgical teams there.
The Haven service, which operates one day a week, provides support to help relieve the physical and emotional side effects of a worrying diagnosis. Counsellors and therapists are able to work alongside the medical team in the unit's pleasant environment to provide emotional and practical support for people undergoing the stress and anxiety of a breast cancer diagnosis.
Speaking at the unveiling, the Countess, who is the President of Breast Cancer Haven's guardian programme, said: 'It really just helps any individual feel more confident about where they are and what has happened……for us to become more agile and to be actually providing this service here is really a dream for us.'
Photo with kind permission of Worcester News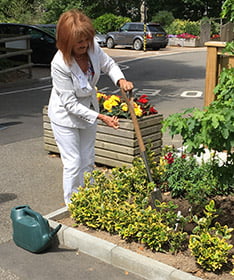 Following the conclusion of Beaulieu Convent School Foundation's first capital appeal, which has already delivered highly valued improvements to the School's campus, a legacy programme has recently been inaugurated.
Future legators who declare their provision for the School in their wills automatically become members of the Sine Macula Society and among other forms of acknowledgement a rose is planted in the school's grounds.
Pictured is the founder member the Society, Sheila Baker, planting her celebratory rose, a beautiful floribunda called Sweet Memories.
After a major development project, Rowans Hospice will be able to help new categories of patients at a new Living Well Centre.
From the moment of diagnosis, people with a life-limiting illness in Portsmouth and South East Hampshire and their families and carers will now be able to get advice, support and help at Rowans Living Well Centre, which opened at the end of October 2016 at Rowans Hospice.
Craigmyle Fundraising Consultants managed a campaign of applications to grant-making trusts that helped to raise over a quarter of the Centre's £1.7 million cost, completing a funding package that also included a government grant, major gifts, fundraising events and investment from reserves. The campaign was so successful that the Hospice has since added a trusts fundraiser to its fundraising team.
Rowans Living Well Centre is open Monday to Friday, 10am to 4pm, and anyone needing support can just drop in, no medical referral is needed to access the services. It offers a relaxed and safe environment where people can spend time, make new friendships and participate in a variety of activities, including art and craft, a horticultural programme, carers' support group, complementary therapies, formalised exercise groups, and many more.
In contrast to the seismic political events that 2016 will forever be remembered for, Philip Hammond's first Autumn Statement was something of a sedate affair, and probably none the worse for that.
Most of the key measures, such as the investment in infrastructure and the abandoning of the aim to reach a fiscal surplus by the end of this Parliament, had been trailed in advance. While the 'Northern Powerhouse' was joined by the 'Midlands Engine', there was little relating to charities and certainly nothing about reducing the burden of VAT or tackling the apprenticeship levy, key concerns expressed in advance within the sector, while the LIBOR fines money continues to go to a small number of charities selected by the government.
Tax Rates, thresholds and allowances
Personal allowance and higher rate threshold
The government will meet its commitment to raise the income tax personal allowance to £12,500 and the higher rate threshold to £50,000 by the end of this Parliament. As previously announced, next year, the personal allowance will rise to £11,500 and the higher rate threshold to £45,000 (para 45).
Corporation tax
The rate of corporation tax will be cut to 17% by 2020 and business rates reduced by £6.7 billion over the next 5 years (para 4.23).
National Living Wage and National Minimum Wage rates
As employers, charities may be affected by the increase in the National Living Wage by 4.2% from £7.20 to £7.50 from April 2017, and other increases in the National Minimum Wage (para 3.46).
Gift Aid
Gift Aid digital
As announced at Budget 2016, intermediaries will be given a greater role in administering Gift Aid, simplifying the Gift Aid process for donors making digital donations (para 4.17).
Gift Aid Small Donations Scheme
Following the review announced at Autumn Statement 2015, the Gift Aid Small Donations Scheme is being amended to make it more accessible and flexible, and to ensure fairer treatment between charities that are structured in different ways (para 5.18).
Readers may care to read the responses to the Government's consultation on this topic at https://www.gov.uk/government/uploads/system/uploads/attachment_data/file/544955/Gift_Aid_Small_ Donations_Scheme-summary_of_responses.pdf
Women's Charities
£3 million is being awarded from the so-called Tampon Tax to Comic Relief to distribute to a range of women's charities.
Women's charities should also note that applications are invited from 1 December 2016 for the next round of Tampon Tax funding to support women's charities, including those running programmes that tackle violence against women and girls (para 5.15).
Museums and galleries tax relief
The scope of the museums and galleries tax relief announced at Budget 2016 will be broadened to include permanent exhibitions so that it is accessible to a wider range of institutions across the country. The rates of relief will be set at 25% for touring exhibitions and 20% for non-touring exhibitions and the relief will be capped at £500,000 of qualifying expenditure per exhibition. The relief will take effect from 1 April 2017, with a sunset clause which means the relief will expire in April 2022 if not renewed. In 2020, the government will review the tax relief and set out plans beyond 2022 (para 4.30).
Armed Forces and Emergency Services charities
A further £102 million of banking fines has been committed over the next 4 years to support Armed Forces and Emergency Services charities and other related good causes (para 5.14).
Investing in culture and sport
Funding will be provided for urgent repairs at Wentworth Woodhouse (a Grade I listed country house), a new creative media centre in Plymouth, a new arts complex in Southampton, and a Royal Society of the Arts pilot to promote cultural education in schools (para 5.20).
Commitments were also confirmed to hosting the 2021 Rugby League World Cup and the Cycling Road World Championships in 2019 (para 5.21).
Social Investment Tax Relief (SITR)
From 6 April 2017, the amount of investment social enterprises aged up to 7 years old can raise through SITR will increase to £1.5 million. Other changes will be made to ensure that the scheme is well targeted. The limit on full-time equivalent employees will be reduced to 250. The government will undertake a review of SITR within two years of its enlargement (para 4.34).
The paragraph references above relate to the full Autumn Statement 2016, which can be read at
https://www.gov.uk/government/uploads/system/uploads/attachment_data/file/571559/autumn_ statement_2016_web.pdf
Please note: This bulletin is published as a general guide to the 2016 Autumn Statement and not intended to replace specific professional advice from, for example, a solicitor or accountant. You should always refer to the official websites shown above for further information. Craigmyle consultants take no responsibility for the correctness or completeness of information or interpretation given here.
An eleven-year project came to fruition with the opening on 3rd November 2016 of the National Heritage Centre for Horseracing and Sporting Art at the Palace House site in Newmarket by Her Majesty the Queen.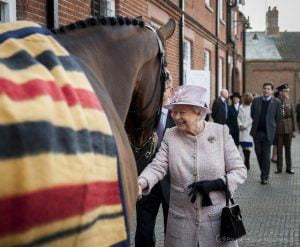 Planning for the Centre, which includes a new home for the National Horseracing Museum, a national Gallery of British Sporting Art and a yard for ex-racehorses to be re-trained for other activities began in 2005. This heralded the start of Craigmyle's involvement with Newmarket Action Group, the group responsible for progressing what was then a vague idea about utilising an historic racing site for equine heritage.
What was clear was that the cost would be in the millions of pounds, which would have to come from a major fundraising campaign. There was a great deal of scepticism about the general concept, following the failure of earlier attempts to create an equine visitor attraction similar to the hugely successful Kentucky Horse Park. The initial tasks therefore were to create an exciting but achievable vision based on a viable and flexible plan and to obtain the all-important major 'enabling gifts' which would establish the credibility of the project and establish the initial momentum that was essential in getting the project moving.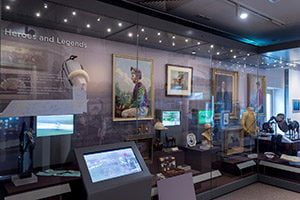 The project was very fortunate in having the long term commitment and support both of Forest Heath District Council and the Jockey Club, both of which had the foresight to see how much the project could bring to the area in terms of economic regeneration as well as a national heritage attraction and the patience to realise that it was a project that needed to be given as much time as necessary to succeed.
With the support of a group of very generous key supporters, the project evolved to become a highly compelling proposition. There were a number of setbacks and delays along the way, to do both with the project and the fundraising, but these were addressed as they arose and progress continued. The award of a major HLF lottery grant at the point when around £9 million had been raised took the total close to the £15 million target, which was subsequently reached at the end of 2014.
The two year build was completed this autumn and the end result is a testimony to the resolve and enthusiasm of all those who helped to bring the vision to reality – a wonderful new Centre of Racing Heritage.
Images courtesy of Palace House Newmarket