2020
2020 has been a really tough year for so many charities and organisations.
Craigmyle fundraising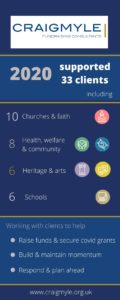 consultants have supported 33 clients, large and small. We've worked with schools and colleges, churches and faith organisations, health, welfare and community charities and heritage and arts organisations.
We've kept in touch, we've helped keep up momentum on vital fundraising projects, we've supported them to access emergency COVID-19 funding and we've helped them respond and adapt as they develop future strategies.
We look forward to working with and supporting all our clients in 2021.



Tips and Blogs