Where's Zoom in the hierarchy of effectiveness?
When helping clients plan fundraising approaches, Craigmyle consultants often refer to a hierarchy of effectiveness.  We know – as you probably do from personal experience – that it's much easier to ignore a generic email than a telephone call from someone we respect, or even better, a face to face approach.
Unthinkable prior to Covid-19, Zoom meetings have become a normal part of our working practices, including communications and contact with donors.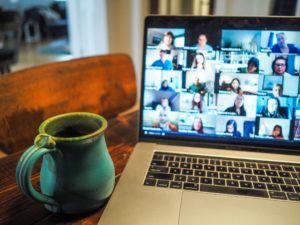 But where do they sit in the hierarchy of effectiveness?  Is it possible to ask for major gifts over Zoom?
Here are a few reflections from our Zoom experiences this summer:
Virtual meetings should be as carefully planned as a face to face one – and don't forget to be on top of the technical issues (for you and other participants)
They are a valuable tool to keep donors close to your organisation. You can update key donors on how you are using their gifts and how your charity is meeting needs right now
Introductory or briefing Zoom meetings can help warm up prospects, and start to build a relationship
Preparations for a campaign can be made using zoom – from Steering Group meetings to approaches to fundraising leaders
They are useful in following up on pledges and with volunteer committee members to ensure they are making their prospect contacts
But what about soliciting major gifts via Zoom?
Making fundraising approaches is best done in person, using a prospectus as an aid to the approach. It is then possible to use a schedule of gifts as a tool to encourage the donor to settle on the level that is right for them. And, of course, a personal approach from a financially committed volunteer fundraising leader. Yes, this could be done by screen sharing but really there is no substitute for a face to face meeting.  So, on balance, it may be better to defer one to one approaches until there are opportunities for (socially distanced) meetings, in person.
As with any technology, we will, of course, have to wait and see how things develop with Zoom.  Over our 60 years, we've seen the advent of telephone fundraising, email and social media, and many iterations of direct mail approaches, along with their impact on fundraising.  New technology can create new opportunities but it's essential not to forget that people respond to people, especially those they know and respect.  So, for all approaches focus on personal connections.



Tips and Blogs