Craigmyle Fundraising Consultants today announced that Gill Moody has decided to retire.
Since 1998, Gill has worked as a consultant, helping a range of churches, charities and third sector organisations build sustainable fundraising success.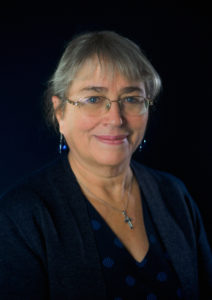 Over her time, she served as a champion for nurturing new talent, developing partnerships and growing business, particularly in Craigmyle's ecclesiastical sector.
"Gill has contributed 24 years of experience to Craigmyle and her achievements have been invaluable and will not be forgotten. Gill's work ethic, command of complexity, commitment and client focus have been exemplary," said Siân Newton, fellow Director. "Gill has been a mentor to many, including myself, and her influence has made an indelible impact. Everyone wants to thank Gill for all she's done for the development of Craigmyle. She will be missed.

"For over 60 years, Craigmyle has enabled UK charitable causes to achieve their goals. We look forward to writing the next chapter of this story, and continuing to serve our clients as they respond to the demands of today's fast-changing funding environment. "
Gill started life as a teacher, then worked for the Church Urban Fund as Campaign Director, as Faith In the City Officer for the Church of England and Charitable Appeals Manager at The Leicester Royal Infirmary NHS Trust.
Craigmyle Fundraising Consultants enables UK charities and not-for-profit organisations to realise their objectives through fundraising by providing expertise tailored to each client that draws upon our consultants' hands-on experience of strategy and implementation, collective team knowledge and our 60-year track record.
Since its foundation by Lord Craigmyle in 1959, Craigmyle's fundraising consultants have helped more than 2000 charities – encompassing the full breadth of the non-profit sector and including cathedrals, churches, hospitals, hospices, museums, heritage projects, schools, welfare, arts and conservation organisations – raise over a billion pounds for capital and revenue projects.
We are delighted that earlier in the year The National Lottery Heritage Fund awarded £10,000 to our client, the Church of the Ascension, Blackheath for a project to explore the church's heritage and radical traditions through personal and biographical stories from the community, past and present.
From the days of its association with Greyladies College, hosting a pre-WW1 Church Lads Brigade to its pivotal role in the South Bank Religion movement of the 1970s, the Lesbian and Gay Christian Movement and the Movement for the Ordination of Women, alongside community-based initiatives such as the Wash House Youth Club, the con-temporary church continues to provide a focus for worship, prayer, inclusion, social jus-tice, human rights, debate and protest.
Under the title, 'One roof, many stories: radical and inclusive histories', the project will engage local volunteers in researching and interpreting a range of stories and images. These will be made accessible through web pages and audio-visual installation in the church itself.
"We are keen to capture this less recorded and comparatively recent history, some of which has been excluded or omitted from official recorded histories," said Reverend Anne Bennett. "We are particularly keen to record the memories and material archive of individuals in the congregation and the community before they are lost and forgotten. We are inviting all members of the public that have memories linked to the Church of the Ascension and the various movements it has been involved with to kindly share with us their stories and help us to tell them more widely. We'd also like to hear from anyone who would like to become part of the volunteer research and interpretation team."
Press contact: Bridget Knapper bridget.knapper@ntlworld.com 07876 367142
Notes:
About The Church of the Ascension, Blackheath
The Church of the Ascension, Dartmouth Row, SE10 8AW is a grade II * listed building and one of the oldest churches in Blackheath. The church is both a local parish church hosting groups for young people, ESOL and food poverty. It is also a 'destination church' for people in the community, including LGBTQIA+ and others seeking an inclusive and socially aware outlook. It played a pivotal role in the South Bank Religion movement, which sought to reshape Christianity in the light of modern science and the challenges of an unjust world and its members were key figures in the Lesbian and Gay Christian Movement, Amnesty International, Anti-Apartheid and the Movement for the Ordination of Women. It hosts the Amnesty International booksale twice a year.
www.ascension-blackheath.org
@AscensionCurch
About The National Lottery Heritage Fund
Using money raised by the National Lottery, we Inspire, lead and resource the UK's heritage to create positive and lasting change for people and communities, now and in the future. www.heritagefund.org.uk.
We often emphasise to our clients, large and small, the importance of taking time out from the busyness of everyday to take time to take a strategic approach, review activities and look at longer term planning. While accredited Craigmyle consultants regularly work together in pairs or in threes on projects bringing together the appropriate and different skills and experience required, and seek informal advice and input from all our colleagues, we rarely meet in person and even less during the pandemic.
All being well we will be in Ramsgate this week for our annual get together. All the Craigmyle consultants meet up to discuss the key issues in fundraising and how with over 60 years' experience we can use current learning to meet today's challenges. Getting together offers an opportunity to compare experiences and develop a collective picture from our work with clients from across the UK and with different sectors – arts & heritage, faith organisations, educational and charities. Sessions typically draw upon fundraising best practice and theory whilst ensuring a practical side as we explore case studies and how best to use when working with clients.
Last year, our focus was on helping clients adjust to the pandemic and offering immediate support and advice, including keeping supporters informed, thinking holistically and accessing emergency funding.
The focus this year is about looking ahead together and how we can best help our clients move forward. Many clients have had to focus on immediate and short term needs and campaigns and fundraising appeals have been delayed or stalled in the face of the pandemic. As we start to move forward perhaps now is the time to think about longer term planning and the next steps.
If you want to talk with us about how we can help your fundraising planning do get in touch.
If you want to stay in touch with the latest tips and insight arising from our 2021 get together, do follow us on Linked In or Twitter.