Fundraising literature
Done well, fundraising literature is a powerful and essential part of the fundraising process.  Fundraising literature or material comes in all shapes, sizes and styles. From an Appeal brochure to a legacy leaflet, it's important not to let perceptions of what's required or the process of producing literature derail your strategic focus.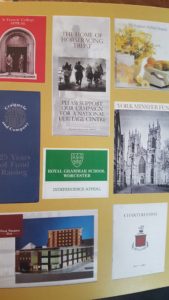 You need to be clear on the purpose of each item of literature, who it is for and how you'll use it.
To help you do that, let's take a look and the why and the what of literature:
The Why
Understand the purpose of fundraising literature
To achieve a consensus – getting your organisational and fundraising leadership on the same page
To spell out your fundraising objectives
To support the asking process, for example by including a table of gift
To inform and enable the giving process, making it easy for people to give
To lay a clear path for people to follow and to remind them of the clear path they've been asked to follow (call to action)
Consider the 3 M's: what is your message, who is the most effective messenger and what is the best means (e.g. hardcopy, electronic, face-to-face)
Develop specific tools for specific jobs – not all campaigns are the same so you need a range of tactics and a range of literature
The What
Mange the process and control who does what – writing, editing, proofing, sign off, distribution
Plan out the details, from the type of materials and use of colours to inserts and enclosures
Prepare design briefs and specifications so designers understand the fundraising requirements
Identify production costs with a clear and agreed budget
Consider sponsorship or whether production can be a Gift in Kind
Adverts may be appropriate but shouldn't distract from the fundraising message
Visuals, such as images and photos, matter but whether you're collecting existing ones or commissioning new don't forget to collect permission
Personalise where possible
Make it easy for the donor to give – freepost envelopes work but an envelope that states 'freepost but please use a stamp' risks donor procrastination or feelings of guilt for using it.



Tips and Blogs