Church capital campaign expands community impact
At the Grade 1 listed parish church of St Peter and St Paul, Coleshill, contractors are on site for the latest and most complex phase of an ongoing programme of works.
A £1 million re-ordering and restoration campaign has already delivered vital weatherproofing and repair works to the exterior roofs and masonry of this large Warwickshire church, as well as funded the conservation of a nationally significant set of medieval and early modern church monuments.
The building's facilities have also been significantly upgraded with the creation of disabled toilet provision and a kitchen, which in turn has ushered in the launch of a community café run on site in partnership with a local school. The latest works that are underway will introduce a new heating system in replacement of the church's antiquated Victorian pipework system and create increased flexibility within the building through the partial removal of pews.
As churches increasingly broaden their community-focused provision, the ability to offer a warm welcome and flexible usage are common concerns within historic buildings that were not originally designed to hold heat efficiently. At Coleshill, a zoned-heating system is being installed which will allow the building to be warmed in relation to specific usages while reducing carbon imprint and running costs.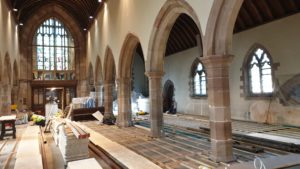 Campaign Director and Craigmyle Consultant, Dr Joel Burden, who has a background as an historian,  commented,
One of the many fascinations of working with old buildings is discovering how earlier generations tackled issues which still confront their custodians today. At St Peter and St Paul, for example, it is still possible to see where coal would have been delivered to the boiler room for the solid fuel stoves of the past, while records still survive from the early 1900s that relate to fundraising for the heating of the chorister's seats in the chancel.
Craigmyle Consultants have been working with the PCC since a capital campaign was first launched in 2016, with over 90% of the overall project funding has now been pledged.



Latest News