Team approach to fundraising
A team approach to fundraising and the importance of detailed research into potential funders: David Titchener, from All Saints, North Street York talks about working with Craigmyle Fundraising Consultants
Christine Buccella and Joel Burden, accredited Craigmyle Fundraising Consultants, spent just over nine months working with David Titchener raising over £120,000 towards matched funding for a National Lottery Heritage Fund application for a vital and exciting heritage project at All Saints, to restore 13 precious medieval windows, develop an activity plan and install interpretation.  David is a long-term member of All Saints Parochial Parish Council (PCC), former churchwarden and volunteer lead for this project.
All Saints is an Anglican church situated in the centre of the medieval city of York in northern England. The present church, which is mainly fourteenth and fifteenth century, stands on a site hallowed for worship for almost 1100 years. It contains one of the most important displays of medieval stained glass in the British Isles, including the famous Pricke of Conscience window. The Restoration and Conservation Appeal for the Stained-Glass Windows is now fully funded with an award of £531,000 from the National Lottery and a total of £230,000 of matched funding.
Wendy Foreman had a chat with David this week to ask about his experiences of working with Christine and Joel.
How did you come across Craigmyle Consultants?  
Several years ago (during the Quinquennial) it was identified by the church architect that the beautiful stained-glass windows needed significant repairs and it was suggested that funding be sought from the National Lottery Heritage Fund.   We were successful in achieving (at that time) Round 1 approval and ready to start preparing the Round 2 application.  However, we needed to find £230,000 match funding as part of this.  I had already received two pledges including one from a Parish Estate Charity but I recognised the need at this point for professional fundraising advice and support.
Our project manager at the time had worked with Craigmyle Consultants previously on a different project and as well as advertising our requirement we invited Craigmyle Consultants to tender.  Following their comprehensive proposal, we interviewed Christine and Joel and appointed them in early 2019.
What were you looking for in a fundraising consultant?
I was looking for fundraising consultants with a track record of success in raising money and who could do this in a competent way using their knowledge and experience to research and evaluate grant-making trusts and other bodies.  Consultants who could advise us on how and where to target our approaches.
What were Christine and Joel's roles?
There were two main strands of work:
Strategic support for the church with the fundraising in partnership
Detailed research and identifying funding opportunities as well as bid writing
Christine provided strategic advice and guidance on how to make approaches for funding and screening local prospects.  She also developed the case for support with me and confirmed how to ask for the funding, making sure the need was clear. She provided mentoring and very useful templates for me to use when writing to local people and trusts.
Meanwhile Joel was focused on national grant making trusts and other relevant bodies including the writing and organisation of bid applications ensuring all deadlines were met and other opportunities identified.  He organised lots of research and identified the national and larger grant making trusts that we should approach.
Their knowledge was invaluable and ensured a far greater and wider reach and working in partnership with them I felt more confident in these approaches.
Has working with Christine and Joel met your expectations?
I have been delighted to work with them as I was concerned about how we were going to raise all this money but my expectations were met.  Their confidence was also reassuring as once the letters and applications went out, we didn't hear anything for a few weeks and it appeared nothing was happening.  But then the replies started coming back and were very encouraging. It was great.
It is the first time the church has worked with fundraising consultants and we could never have raised that amount of money on our own without their expertise and knowledge.
Did working with Christine and Joel make your life easier? 
Yes, it provided me with reassurance and confidence.  It took a lot of stress away.   The team approach worked very well and the three of us were able to bounce ideas across to each other, discuss any worries, answer questions that arose and share our experiences.  It was a great team effort.  They came up with new ideas that we would never have thought of. We did not encounter any problems or unexpected issues.
In a few words how would you describe Christine and Joel's approach?
Very professional, efficient. They did a very good job.  We were successful in achieving the funding we needed.  And we were able to meet the tight timeline for raising the money before the Round 2 deadline and go into the National Lottery committee with all the funds committed.
Has the pandemic had an impact on your fundraising?  
No. We were well on our way.  We had already achieved the funding required although some of the money was pledged and not yet received as a couple of the grant making trusts required invoices or certificates once the work started or was completed.    Our interview with the National Lottery Heritage Fund had to take place on Zoom but that was fine.  Also, we have not been able to open the church to visitors as often each week as we would like and we have been unable to start the training programme for our heritage volunteers.
What next for All Saint's Church, North Street York?
The first window has now been restored and work is ongoing.  The restoration of all the windows will be complete by early 2023.   We hope very much to have our first event hosted by the University of York in June this year (as per government guidelines). We will then start to build momentum and raise awareness of the opportunity to visit through our own communication channels and Visit York for example.   We are excited to be putting in storage and kitchen facilities so we will be able to offer visitors tea and coffee.  Our activity manager has been recruited on a two-year contract and we hope very much that the activities will make this role self- funding.  If we need additional support for this, I now know where to go locally for support using the skills and knowledge, I have built up working with Christine and Joel.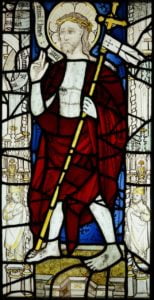 A huge thank you to David for his time and for sharing his thoughts about working with Craigmyle Fundraising Consultants. We wish David and all at All Saints North Street the very best for the future.  Find out more about All Saints Church North Street York here.
For more about Craigmyle Consultants and our approach visit https://www.craigmyle.org.uk/what-we-do/our-approach/



Tips and Blogs